The Heart of Industrial Communications
Real-time production and maintenance control and analysis require information from all machines and equipment in the plant. If you can analyze/monitor your production data, then you can optimize your line and ensure your manufacturing systems are running efficiently. The challenge of obtaining and utilizing this data comes from the very nature of the plant ecosystem, which often requires the ability to communicate with many devices from different manufacturers that speak a variety of languages (or protocols).
For all of this, there's 'KepserverEX,' which is a unique solution for collecting, aggregating, and securing operational data.
Its platform design allows users to connect, manage, monitor, and control various automation devices and software applications, from plant control systems to enterprise information systems.
Benefits:
Interoperability
Ease of use and configuration
Security
Scalability
KEPServerEX leverages OPC (the automation industry standard for interoperability) and IT-centric communication protocols (such as SNMP, ODBC, and web services) to provide users with a single source of industrial data
KepServerEX embeds the following OPC specifications:
OPC Unified Architecture (UA): The latest generation of the standard developed by the OPC Foundation. OPC UA is a client/server protocol where the client retrieves information from the server, reads and writes securely. KepServerEX comes with the UA protocol in server mode by default. If desired in client mode, it's also available through licensing.
OPC Data Access (DA): The classic OPC, widely used in the industry.
OPC.NET
OPC Historical Data Access (HDA)
OPC Alarms and Events (AE)
The Reality of Many Industrial Communications
Many industrial operations have grown while facing challenges such as the emergence of different automation protocols, the need to feed data to applications like SCADAs or MES, or the requirement to share shop floor data with cloud-based enterprise applications securely.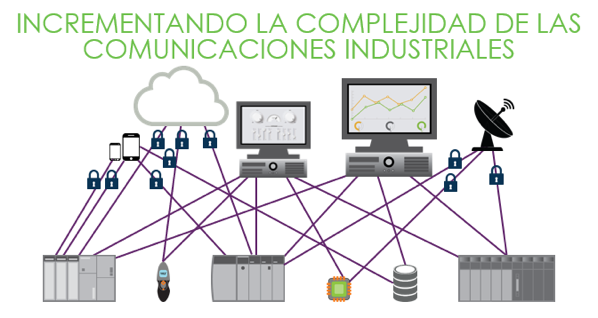 The Heart of Industrial Communications
Kepware started 25 years ago by developing communication protocols to enable devices like shop floor PLCs to communicate with each other.
Over the years, Kepware has made this information available not only within the shop floor environment to applications like MES, SCADA, or IoT but also beyond it, including ERP systems, Databases, Historians, and the cloud. Today, Kepware is the central hub for managing all industrial communications.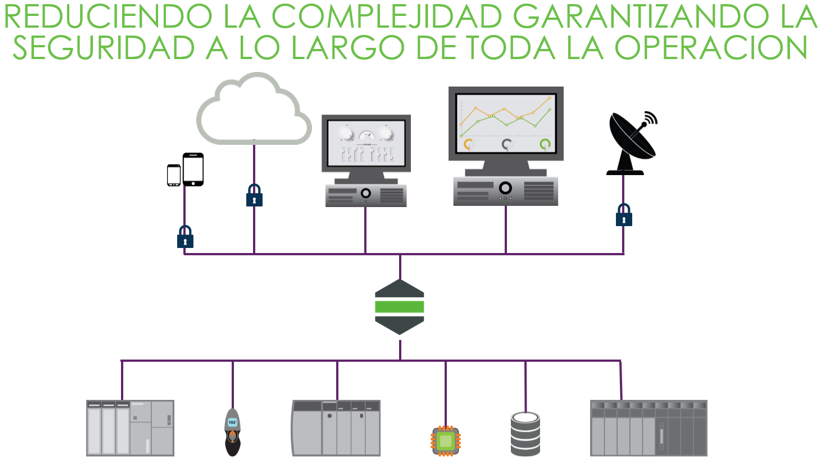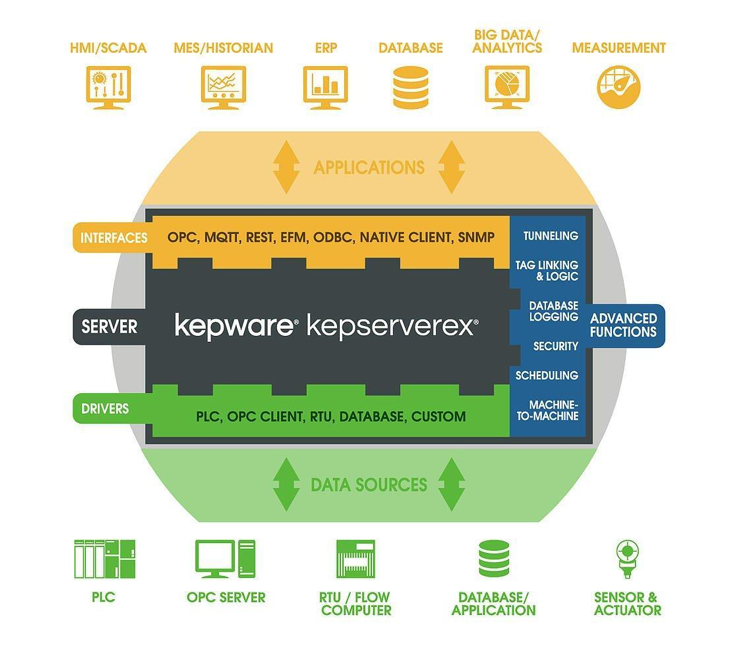 Kepware divides industrial communications into two parts:
Southbound: Through the development of 150+ communication drivers over more than 25 years, in collaboration with major automation, control, and instrumentation manufacturers, it successfully connects to systems from Allen Bradley, Siemens, Schneider, ABB, Honeywell, Emerson, General Electric, Yokogawa, Kuka, Omron, among others. It also works with open protocols like Modbus, Codesys, BACnet, IEC 60870, IEC 61850, DNP3.
Northbound: It includes the development of interfaces in key industry protocols to communicate with systems like HMIs or SCADAs, MES, Historians, ERPs, Databases, Advanced Analytics Systems, cloud platforms, etc., using protocols such as OPC DA/UA/HDA, ODBC (Data Logger), MQTT, REST, among others, from manufacturers like AVEVA, Wonderware, Ignition, AWS, Azure, Osisoft, SAP, Oracle, etc.
Kepware was born as an OPC Server, but today it's much more, with advanced features like Advanced Tags for mathematical calculations, Tunneling to send communication through firewalls, etc.
How Can I Test Kepware?
The Kepware demo download is free. Once downloaded, this version has all protocols and advanced plug-ins available for a two-hour period, which can be restarted as many times as necessary. It's an ideal version to determine the best communication protocol for my application.
If a longer Proof of Concept (POC) period is needed, we can provide a demo of specific protocol(s). Just reach out to us to get a completely free activation ID.
Advanced Plug-Ins (Advanced Functions): These advanced add-ons expand KEPServerEX's capabilities by providing enhanced server functionality, increasing data usefulness by transforming it beyond raw data into a device record. Advanced plug-ins can be licensed individually or as part of sets and can be licensed on-demand as customer connectivity needs evolve.
Advanced Tags
Alarms and Events
Datalogger
EFM Exporter
IoT Gateway
Local Historian
Scheduler
SNMP Agent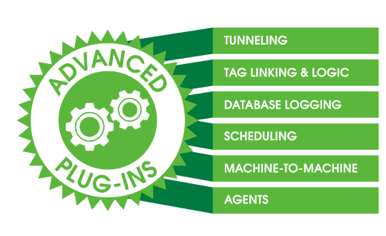 Additional Resources
---
Would you like to know more about everything we can offer?
Contact
us.
For more information about our products
and services, please contact us at:
info@vertix.pe
+51 977 967 376
Vertix Technologies SAC
Av. José Larco 1232
Lima 15074
Peru
©2023 Vertix Technologies. All rights reserved.
Privacy policy