Real-time OEE Management Software
What is Shoplogix?
The measurement of Overall Equipment Efficiency (OEE) and other parameters is essential for Production Areas to achieve world-class efficiency standards. Shoplogix is intelligent software that uniquely connects to any machine (whether it has PLCs or not), automating the collection of shop floor information
Shoplogix solutions present data visually, forming the foundation for continuous improvement concepts such as Kaizen, TPM, or Lean Manufacturing. This provides companies with tools to eliminate bottlenecks, resulting in significant cost reductions and increased profitability.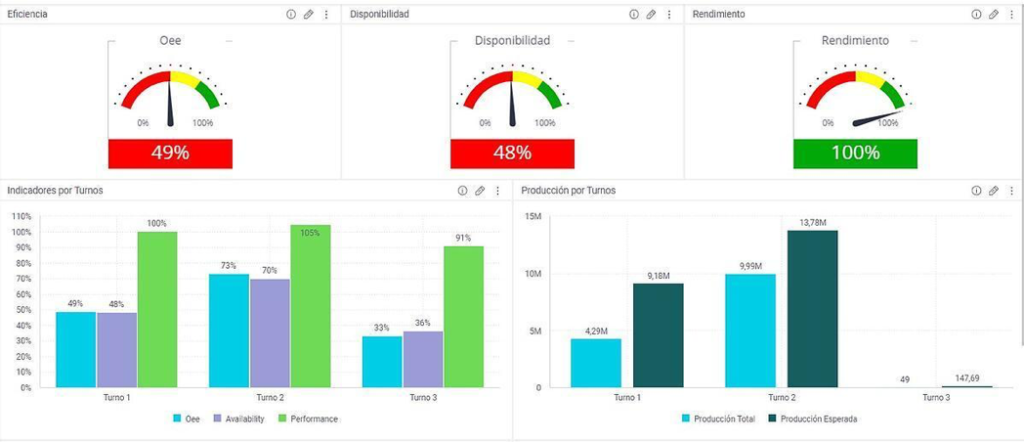 What can you do with Shoplogix?
Once Shoplogix is connected to your production lines, it can deliver around 30 customizable reports for the shop floor. Additionally, it enables a Business Intelligence (BI) environment for analytics and allows you to create any required report. You can view availability, performance or speed, scrap or quality calculation, and OEE as primary parameters. Additionally, MTBF, MTTR, Pareto of downtime reasons, production scheduling, exceeding times, product performance, trends, etc. From there, decision-making and plant operation management become much easier and immediate.
With Shoplogix, you can automatically send reports or alarms via text message or email. It features reports specifically designed to present information on the shop floor, provide feedback to operators, and positively impact morale.
The software includes modules that even allow you to calculate the consumption of electricity, water, gas, or steam; control operator rotations on the plant floor, schedule raw material shipments from warehouses, etc.
All of this happens in real time!
Lastly, Shoplogix has the capability to integrate with other software to receive or send information, such as ERP systems (SAP, Oracle, etc.), CMMS (Fracttal), MES, etc.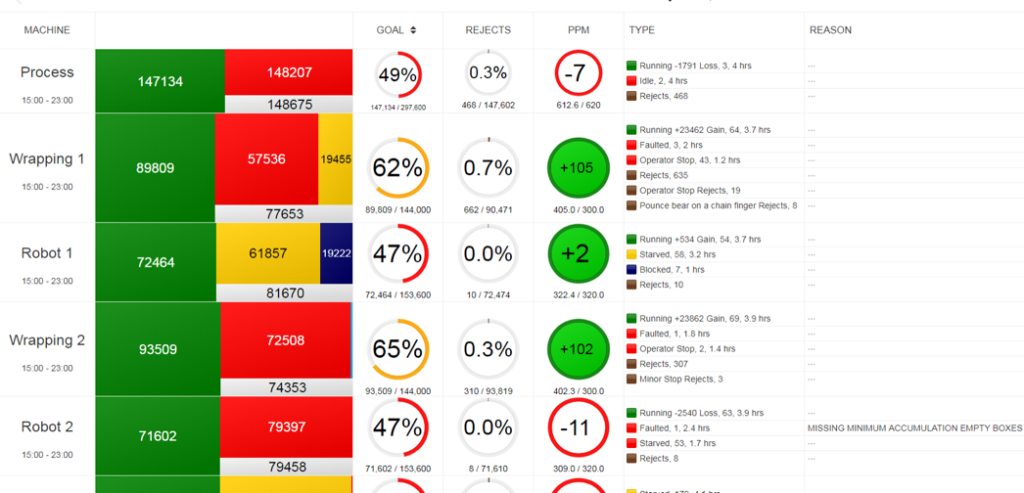 Application Architecture
Regardless of whether you have state-of-the-art automated lines or a manual manufacturing process, Shoplogix can easily connect to production lines. You can install simple sensors for data collection, set up an OPC server to connect directly to PLCs, or use a combination of both
Once production information is extracted, you'll need to install a collection PC that receives data from all production lines, encapsulates it, encrypts it, and sends it to Shoplogix servers residing in the cloud.
Once in the cloud, information is delivered to users in pre-designed or custom-made reports. As Shoplogix is a Software as a Service (SaaS), clients don't need to worry about servers, databases, IT management, etc.
Users access the software via username and password and can do so from any PC or mobile device (cell phone or tablet).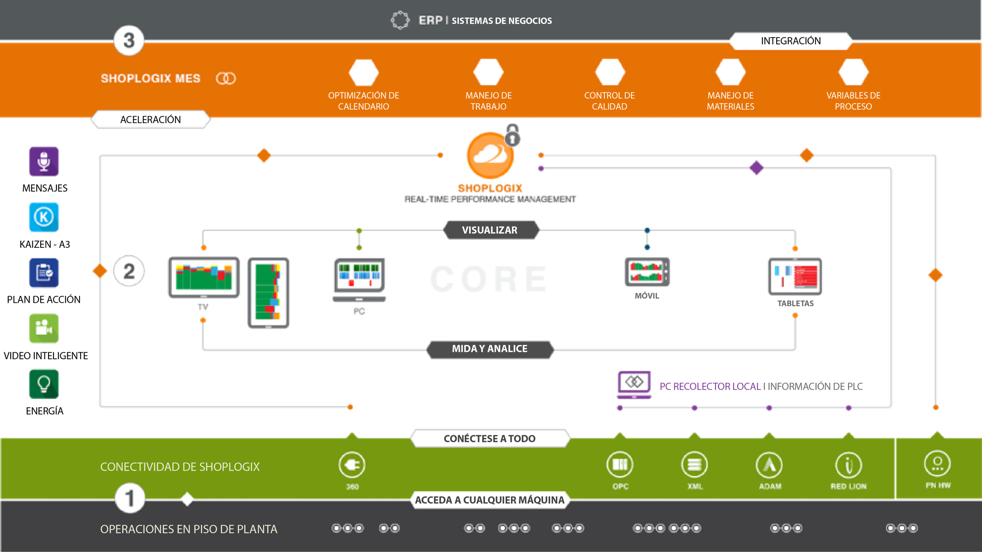 What do your operators need to do? Shoplogix has been designed to have minimal impact on the tasks of operators on the shop floor. Depending on the level of automation within the plant, it's possible that operators might not need to do anything. However, as many systems are not 100% automated, their collaboration might be required, which will be limited to two simple tasks:
Entry of Downtime Reasons When the software detects a stoppage on the production line, the operator will need to select it and choose from the dropdown 'tree of downtime reasons,' indicating the reason for the stoppage.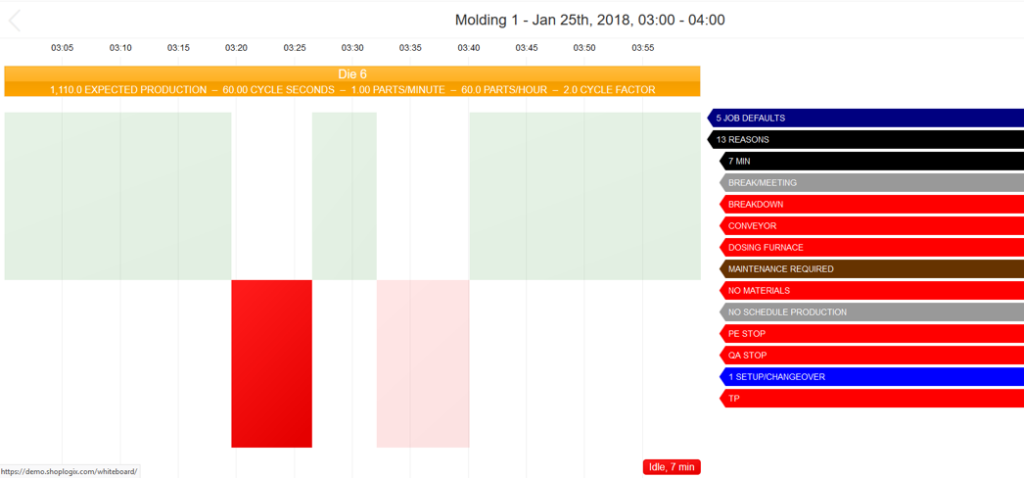 Product changes
When a product change occurs, the operator should inform the software that they are transitioning from manufacturing product A to product B.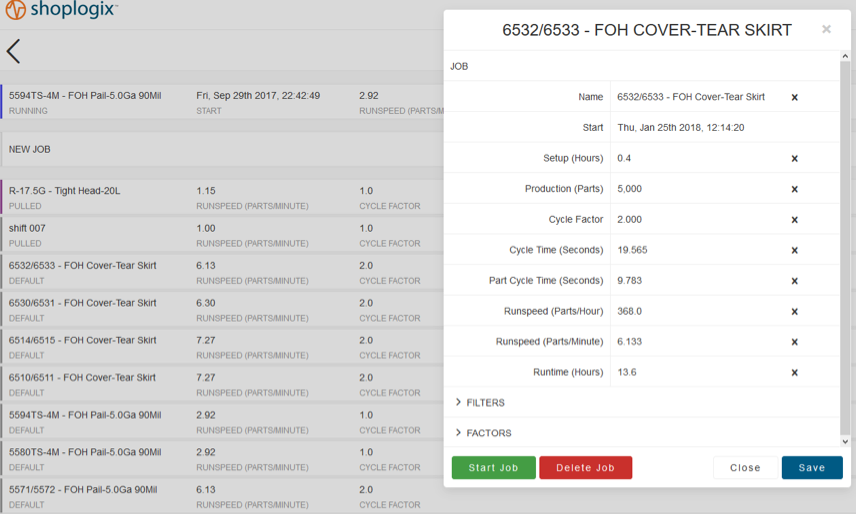 After collecting information from both the production lines and operators on the shop floor, Shoplogix provides the information through two applications:
Whiteboard
It offers over 30 pre-designed yet customizable reports to visually and simply present information on the shop floor. This information serves various purposes, such as providing real-time performance feedback to operators, end-of-shift or end-of-day meetings, production meetings, root cause analysis, downtime analysis, performance analysis, etc.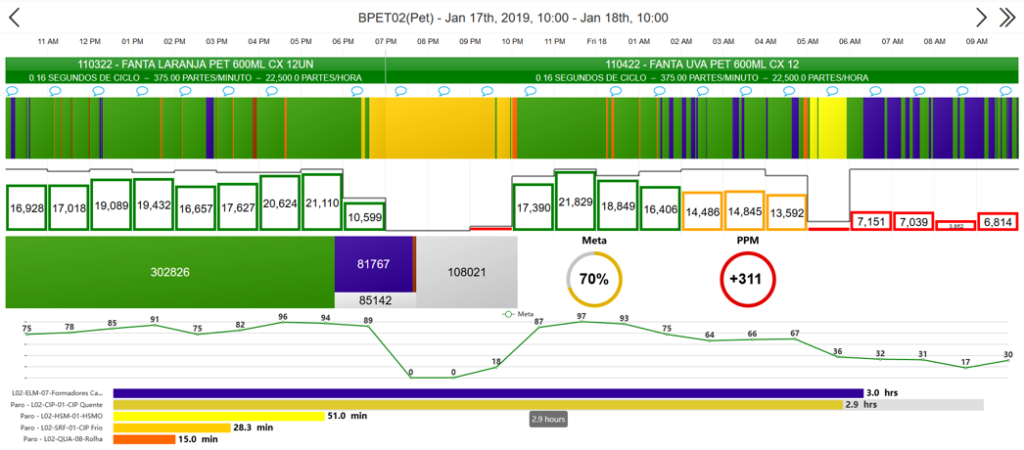 Analytics
Empowers users with the capabilities of an embedded Business Intelligence tool. It opens up the ability to create any customized report, automatically fed by the data collected from the shop floor. In this reporting space, the possibilities are limitless.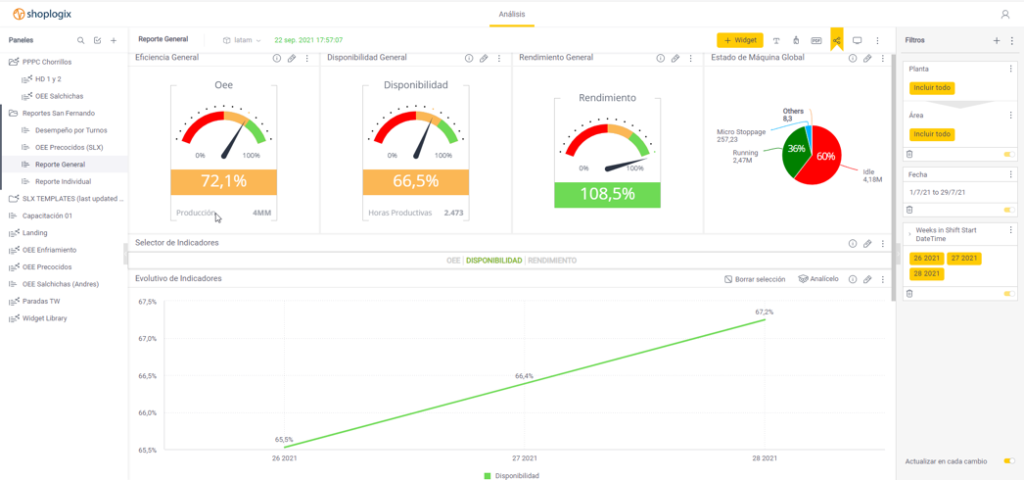 ---
Would you like to know more about everything we can offer?
Contact
us.
For more information about our products
and services, please contact us at:
info@vertix.pe
+51 977 967 376
Vertix Technologies SAC
Av. José Larco 1232
Lima 15074
Peru
©2023 Vertix Technologies. All rights reserved.
Privacy policy